1.According to Caixin.com, China's central bank governor YI Gang said at the G30International Banking Symposium held on October 14 that China's monetary policyremains stable and neutral. If necessary, China still has sufficient room foradjustment in interest rate policy and reserve ratio. In addition, trade frictioncreates uncertainty and increases economic downside risks. The IMF also hassuch predictions and the results of the Chinese central bank's model are closeto those of the IMF.
1、據財新網報道,中國央行行長易綱在10月14日舉行的G30國際銀行研討會上表示,中國的貨幣政策保持穩健中性,不鬆不緊。如果需要,中國在利率政策和準備金率仍然有足夠的空間調節。此外,貿易摩擦創造了不確定性和增加了經濟下行風險,IMF也有這樣的預測,中國央行的模型結果與IMF的預測接近。
2.The Hong Kong Financial Secretary, CHEN Maobo, wrote that it is inevitable thatinterest rates will continue to rise next year. Although the Fed has raisedinterest rates eight times, the real interest rate in the United States hasjust returned to positive numbers for the first time in the past decade. Inaddition, the economy is improving, and the US interest rate hike is expectedto continue. The Fed's monthly balance sheet shrinking every month that beganin October last year will continue. This has an impact on the US dollarexchange rate and global interest rates. It is a challenge for some emergingmarkets that issue more US dollar debt. In terms of the era of ultra-lowinterest rates in Hong Kong, not only will it end, but it may also step into agradual rate hike. The risks in the asset market cannot be ignored.
2、香港財政司司長陳茂波撰文表示,展望明年,利率繼續上升無可避免。雖然美聯儲已八次加息,但美國的實質利率近十年才剛回覆正數,加上經濟向好,預期美國的加息會持續進行;而美聯儲自去年十月開始的按月縮減資產負債表規模的行動仍會繼續。這對美元匯率和全球息率都有影響,對一些發行美元債較多的新興市場來說,挑戰不少。而香港超低息的年代,不但結束,可能還會步入逐步加息,資產市場的風險不能忽視。
3.ZHANG Mao, Director of the State Administration of Markets Supervision, statedin the keynote speech of the theme activity of the 2018 World Standards Daythat it should continue to promote the coordinated development of qualityinfrastructure such as standards and certification, measurement, inspection andtesting, and effectively solve the problem of inconsistent online andoffline standards, and domestic products and export product standards. On October 14 this year,the 49th World Standards Day, the State Administration of Markets said inStatistics that, as of now, China has more than 37,000 national standardscovering all fields of the first, second and third industries and socialbusiness. The level of consistency with international standards has reachedmore than 80%.
3、國家市場監管總局局長張茅在2018年世界標準日主題活動的主旨發言上表示,要持續推進標準與認證、計量、檢驗檢測等質量基礎設施的協同發展,切實解決線上與線下標準的不一致,內銷產品與外銷產品標準不一致的問題。今年10月14日是第49個世界標準日,國家市場監管總局統計,截至目前,我國已有國家標準3.7萬多項,覆蓋了一、二、三產業和社會事業的各個領域,部分領域標準與國際標準的一致性水平達到80%以上。
4.Xinhua News Agency, some consumers said that credit rental business recommendedby 5i5j is actually loans in the name of renting. The reporter's investigationfound that there are many tricks behind the current hot short-term rentalmodel. The use of credit rental is a bait, so that tenantsaccidentally have the online loans they don't want and there are many risks. The intervention ofcapital has contributed to the surge in rents.
4、新華社消息,有消費者表示,我愛我家中介推薦的相寓信用租房業務名為租房實為貸款。記者調查發現,當前這種火爆的短期租賃模式背後隱藏著諸多貓膩,以信用租房為誘餌,讓租客一不小心"被網貸",存在諸多風險。而資本的介入,變相為房租暴漲推波助瀾。
5.People's Daily News, the proportion of optical fiber connections inChina's administrative villages has increased from less than 70% before theuniversal service pilot to 96% now, and the coverage of 4G network inadministrative villages has reached 95%, greatly improving the broadbandnetwork infrastructure capabilities in remote areas and rural areas of China.And it also provides a solid network guarantee for rural revitalization andbattles to get rid of poverty.
5、人民日報消息,我國行政村通光纖比例已從電信普遍服務試點前的不到70%提升至目前的96%,行政村4G網絡覆蓋率目前也已達到95%,極大提升了我國農村及偏遠地區寬帶網絡基礎設施能力,為鄉村振興和打贏脫貧攻堅戰提供了堅實的網絡保障。

6.According to National Business Daily, on October 14, theopening press conference of the 124th China Import and Export Fair (CantonFair) was held in the Guangzhou Canton Fair Convention Center. The number of visitors tothe fair remained stable, and the source of buyers remained diversified. Thecountries along the "Belt and Road" participated actively. Among the importexhibition areas, 381 companies from the "Belt and Road" countries and regionsparticipated in the exhibition, with the 615 exhibitions spots in total,accounting for 60% and 62% respectively.
6、每日經濟新聞消息,10月14日,第124屆中國進出口交易會(廣交會)開幕新聞發佈會在廣州廣交會展館舉行。本屆交易會出席客商人數保持穩定,採購商來源地依然多元化,而"一帶一路"沿線國家參與踴躍,其中在進口展區方面,來自"一帶一路"沿線國家和地區的381家企業參展,展位總數615個,佔比分別達到60%和62%。

7.According to Xinhua News Agency, at present, China has initially built morethan 200 digital workshops/smart factories, becoming the world's largest intelligentmanufacturing market. It is estimated that the domestic smartmanufacturing market will exceed 220 billion yuan by 2020.
7、新華社消息,目前,我國已初步建成200多個數字化車間/智能工廠,成為全球最大的智能製造市場,預計2020年國內智能製造市場規模將超過2200億元。
8.According to Science Network News, on October 12, the National Manned SpaceStandardization Technical Committee Inaugural Meeting and Manned SpaceEngineering Standardization Work Conference was held in Beijing. China's mannedspaceflight project strives to form a life-cycle management mechanism forstandard applications by 2020 to achieve a full set of standard support for thedevelopment and production of manned spacecraft and cargo spacecraft and toachieve breakthroughs in the preparation of international standards for mannedspaceflight. At the time of the completion of the space station, a set of"China Manned Space Station Standards" with independent intellectual propertyrights for space station applications and services will be built simultaneously.
8、科學網消息,10月12日,全國載人航天標準化技術委員會成立大會暨載人航天工程標準化工作會在北京召開。中國載人航天工程力爭到2020年,形成面向標準應用的全壽命週期管理機制;實現載人飛船、貨運飛船研製生產的全套標準支撐;實現載人航天領域國際標準編制工作的突破。在空間站全面建成之際,同步建成一套面向空間站應用與服務的、具有自主知識產權的"中國載人空間站標準"。

9.The People's Daily learned from the Civil Aviation Administration of China thatsince the "Belt and Road" initiative were proposed five years ago, China'scivil aviation has completed 102 million passengers on the "Belt and Road"related routes.
9、人民日報從中國民航局獲悉,"一帶一路"倡議提出5年來,中國民航在"一帶一路"相關航線完成旅客運輸量1.02億人次。
10.According to Xinhua News Agency, Heilongjiang Province has accelerated theelimination of outdated coal production capacity and shut down small coal minesthis year. As of September 30, 120 small coal mines have been closed. HeilongjiangProvince plans to close and exit small coal mines with a capacity less than150,000 tons by the end of this year, with a total withdrawal of 12.46 milliontons. Bythe end of 2020, the annual production capacity of coal mines will be more than300,000 tons.
10、新華社消息,黑龍江省今年以來加快淘汰煤炭落後產能、關停小煤礦步伐。截至9月30日,已累計關閉小煤礦120處。黑龍江省計劃到今年年底前產能15萬噸以下小煤礦全部關閉退出,總計退出產能1246萬噸。到2020年底,保留煤礦年產能全部達到30萬噸以上。
---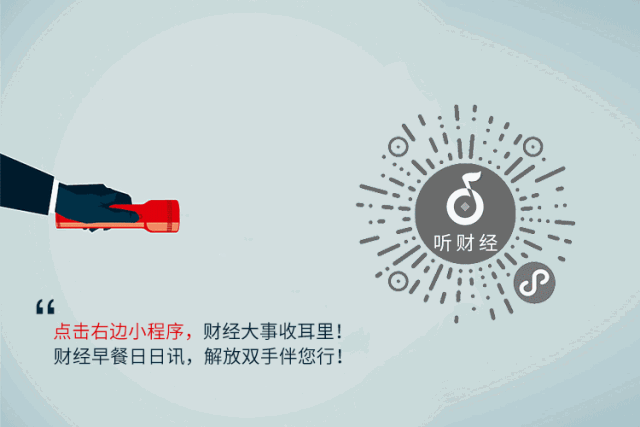 財經事件人云亦云、垃圾資訊接連不停。
財經早餐APP,為您在海量信息中萬里挑一!
點擊下方【閱讀原文】或在各大應用市場搜索【財經早餐】,均可下載。